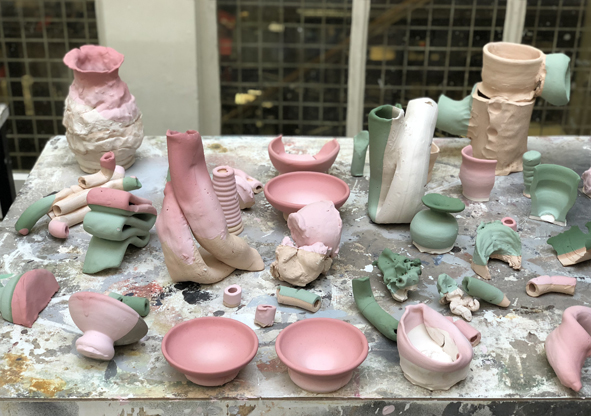 08 August 2018
Architectural Association, London
If clay is the amorphous substance extracted from the ground, imagined and transformed by vision, narrative and the human hand; what is the analogy one can draw in today's digital terra firma which is excessively mined for 0's and 1's. If the earth has been the ground for building and storing civilisations' stories and fragments, then can digital databanks be thought to be the equivalent of an archaeological field – constructing and storing information, protocols, fragments and polygons.
What would a digital Persepolis look like if it was to be 'unearthed' 200 years from today?
Unit 3 operated between clay and polygon, matter and data. Whilst clay was baking, ideas were brewing, surface and polygon were massaged and things grew out of this process. The claygon became our cultural currency, mediating the two spheres of matter, digital and physical.
In the backdrop of this meta-space of the in-between, of dreams and steaming pointclouds; Persepolis, our Ghost City, rises as a digital archive of dense data, a thick urban fabric in which nothing is destroyed or discarded. Instead, multiple temporalities of each urban artifact coexist, a plethora of digital and physical mud iterations, even mistakes are recorded, constructed and celebrated. Commands gone wrong, clay fragments smashed and rebuilt, geometries forensically analysed, printed, extruded and extracted; from the physical to the digital and back again.
The archaeology of Ghost City is unraveled through artefacts accumulated in the Giga-Obelisk, located at its centre, the (0,0,0) of space and time – our CPlane and origin. This point refers to the ancestral origins, commenting on prototypical human organisational systems and building settlements.
Beyond the Obelisk lie five districts; in which command banners are hung, acting as cultural bridges between the mediums of clay and polygon – the hybrid matter that Ghost City is made from, partly flesh and partly 0's and 1's. The Giga-Obelisk brings the virtual space of this Ghost City into the physical environment with cooked narratives, fantastical worlds of point clouds, wireframes, numbers fading into and out of forms generating a dense landscape of data, far more interesting than an end product.
Unit 3 envisioned an Architecture mathematically immeasurable and poetically meticulous. We spun, massaged, baked and smashed matter and concepts creating a zealous workflow of intuition and precision.
Credits:
Tutors: Patricia Mato-Mora & Nasios Varnavas
Students: Yehoshua Joseph, Hu Panteng, Lin Huangzilin, Anakaren Ramírez, Su Yu, Suen Zoe, Sharne Sulaiman, Wan Wai Lok Justin, Wong Sum Yu, Celina Yaputra
AA Conversations